The holidays have passed. The tree is down. Lights have disappeared all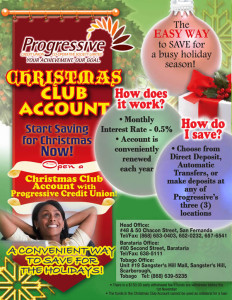 around. The gifts were many and the account balance is low – open a Christmas Club Account today and watch your savings grow.
Benefits:
Funds will be transferred into your deposit account on November 1st and the account is renewed each year
Use two (2) convenient automated deposit options: payroll deductions or automatic transfer or over the counter at any of Progressive's three (3) locations
Deposit just $50 for current members or $75 for new members to start saving for the upcoming holiday season
Open your Christmas Club Account any time throughout the year and get a jump start on saving for the next holiday season!